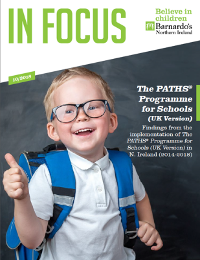 Last week, the PATHS® team in Northern Ireland hosted two very successful events where we celebrated the success of 40 schools in Northern Ireland who implemented The PATHS® Programme for Schools (UK Version) between 2014-2018.
Over the past four years, 555 teachers were trained by PATHS® Education Worldwide approved trainers. The 40 schools also received ongoing technical assistance to support the implementation of the programme from their PATHS® Coaches, Gail Irwin, Lindsay McSparron, Martina Luiten and Whitney Quinn. This support included 1:1 support, in-class support, cluster meetings, measurement and feedback, whole-school training and additional support. Throughout the 4 years the programme reached 12,270 individual pupils. During the events we awarded all schools with a certificate highlighting their participation in the programme. We also awarded 12 new schools with their 'PATHS® Model School' award, and had a special video from Mark Greenberg (developer of the PATHS® curriculum) and Dorothy Morelli (CEO of SEL Worldwide) acknowledging the dedication of these schools. The highlight for the Barnardo's team was when 6 of our schools showcased their SEL journey in a variety of ways from drama to music to stories. We absolutely loved hearing firsthand how the programme has made an impact to the children we support, and we couldn't have been prouder of them. Finally - the events couldn't have gone by without a visit from one of our favourite characters - Twiggle!! We couldn't believe that Twiggle made it all the way to Northern Ireland, and can't wait to see him again.
We'd like to once again congratulate all 40 schools and thank them for their continued support of the PATHS® programme and Barnardo's.
You can read all about the implementation of PATHS® in Northern Ireland here.