1. Materials
To purchase the PATHS® Programme for Schools (UK Version) use the price list and order form below. Up-to-date prices can be accessed below, and orders can be processed by submitting an order form to the Barnardo's email address.
PATHS_Price_List_1st_January_2023.pdf
PATHS(R)_Order_Form_January_23_(Incl_VAT_breakdown).pdf
Please note that a PATHS® Complete Package includes one pack for each year group in your school setting.
Please also note that due to difficulties sourcing materials for our packs, delivery times have been extended. This is beyond our control, however, we will continue to work to get these materials to you as quickly as possible. Some items may vary from previous deliveries during this period.
2. Customers Outside the UK
If you're not in the UK or at a UK international school, please contact PATHS Program LLC, the worldwide distributor of the PATHS® program.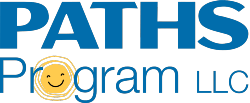 3. Training & Coaching Support
If you would like to find out more about how your school could get involved with Barnardo's training, coaching & implementation support, please get in touch with us below via the 'Contact us' form. We'd love to hear from you!
Please note, enquiries will be responded to between Monday - Thursday 9am-5pm.