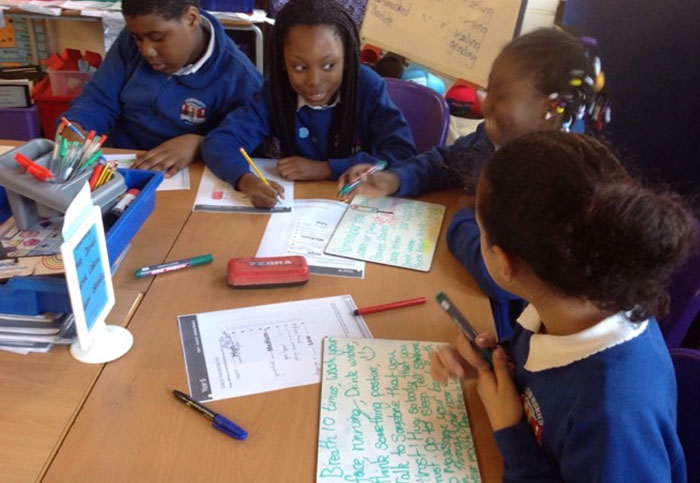 What is Friendship Group?
Under the Realising Ambition strand of funding, Barnardo's combined The PATHS® Programme for Schools (UK Version) with a targeted programme called "Friendship Group" to create PATHS® Plus. Following completion of the PATHS® Plus project, Barnardo's adapted and anglicised the Friendship Group component and are currently delivering this programme in 16 primary schools in Belfast.
The Friendship Group Programme
The purpose of Friendship Group
Many children feel comfortable interacting with their peers at school. They are able to join in and get along with others easily, participate in team activities, communicate effectively with peers, play with others in a cooperative and fair manner, and manage conflicts peacefully. For various reasons, however, these social skills do not come easily to some children. Some children struggle with the task of making friends, and others have trouble maintaining friendships.
Friendship Group is a social skill training programme that offers children the opportunity to learn and practice social skills in the context of small, supportive peer groups with adult guidance. The programme is for children in P1-7 and focuses on teamwork, cooperation and communication skills, fair play, negotiation skills, and effective conflict management. In addition, children have an opportunity to talk about their social worries, and receive support in coping with challenging peer situations.
Who Benefits from Friendship Group?
Friendship Group is intended for children who are having social problems in the classroom. Some have difficulty joining in and feel insecure, awkward, or isolated at school. Others have difficulty with the give-and-take of social relationships and get into frequent conflicts with peers. In both cases, a lack of social skills underlies the social difficulties. Children who lack social skills benefit from Friendship Group, and show improved peer relations as their social skills increase. Note that Friendship Group is not a behaviour management programme, and if children's difficulties are limited to behaviour problems in the classroom (without social skill deficits), a different kind of intervention is indicated.
At present, Friendship Group is not available as a stand-alone programme.
Meet our Friendship Group Trainer